Dental implants function like healthy natural teeth and serve as the foundation for replacement teeth and other dental work. A patient who has lost teeth regains the ability to eat virtually anything and can smile with confidence, knowing that the teeth appear natural and that your facial contours will be preserved.
Implants are titanium posts that are placed directly into the jawbone where teeth are missing. As you recover, the bone interacts with the titanium and creates a foundation for artificial teeth. Implants support facial soft tissues while limiting bone deterioration which is common with missing teeth.
Dental implants can change a patient's life. They restore eating capabilities, relieve pain, and give you a beautiful smile!
Evaluation
If you are considering dental implants our office will take dental images, digital radiographs, a CBCT and look at your health history. Either Dr. Lowenguth or a specialist you are referred to will perform a consultation and discuss your unique situation before the procedure. Your questions and concerns are important to us, and our team will work with you very closely to help make your procedure a success.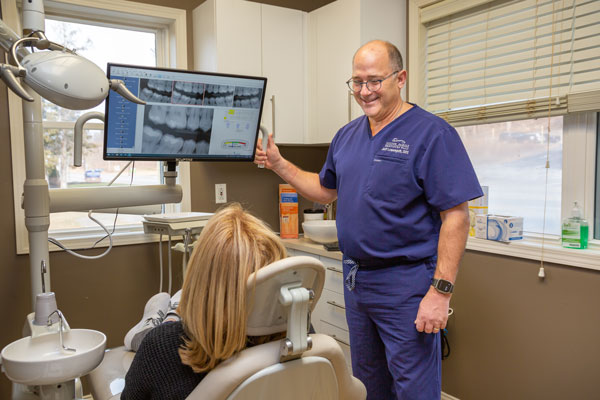 Dental Implant Procedure
Implants are a titanium body that act as root substitute and artificial teeth can be connected to the implant body.  Abutments are connected to the implant body and protrude above the gums and provide a place for the tooth to be attached. Typically, placing dental implants requires two procedures.
During the first procedure, the implants are placed in your jawbone and after four months the implants will have integrated  with  your jawbone. During this time, temporary dentures or crowns can be worn over the gums while the dental team works on building the permanent dental prosthesis.
After the implant has fully integrated to the jawbone, the second phase begins. During the second procedure, the dentist will uncover the implants and attach a small collar which allows Dr. Lowenguth to take impressions of the teeth. The replacement teeth are then made over the abutments or attachments. Most patients do not experience any significant disruption in their daily life.